私が生きているということや、行事や出来事を通じて感じたことなどを、伝えるためであり、覚えておくための日記です。
04/06/2007(Fri)
Having eaten lots of egg chocolate, gone to find pussy willows, and broken off from school, we have Easter here in Finland as well. The teachers have understood well that the students would not study hard druing Easter, they didn't give us lots of homework.
So, having quite a some time to just relax and have fun, I went to a villege, 400 km north to Helsinki, with two of my Finnish friends, Maria and Martina, and one Japanese friend, Mayumi. We went to a house which is used to be Maria's grandmother's place. We were there for 3 days, two nights, from Friday to Sunday. It was really enjoyable being in the country side of Finland☆★
*FRIDAY-SUNNY*
We were planning to go there by car, but because the weather forcus was saying that we'd have snow storm, so we decided to go there by train.
In the train, we stayed in a cafe for whole 6 hours journey because we couldn't sit together. But time flied by playing cards and chatting.
We went to Ylivieska by the train, then Maria's father came to pick us up. Then we went to Maria's parents' place, had lunch, and borrowed some windproofed clothes.
After having lunch, we went to our cottage with Maria driving. The cottage was in a small villege called MATTILA. There are only 5 houses and nobody actually live there. People only come to visit here during summer or other long vacations.
Here, 5 hourses of Mattila;
1. The house where we stayed.
2. The house in front of us.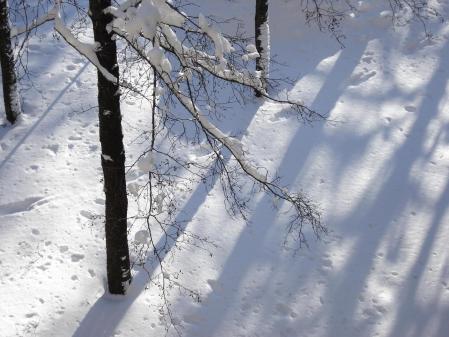 3&4. The houses next us with the trees in between.
5. The oldest and the most spooky house..
After leaving our stuffs at the cottage, we went to swanp lake for barbecue.
It was really beautiful clear day, so the sky looked like a picture little child drawn.
The swanp lake. There were not many trees and the ground was not flat at all.
It's, of course, dangerouse to walk on swanp lakes, so there were woods for the path. But there were ice still on the woods, so it was difficult to walk...
Martina and Mayumi on the wooden path.
People making fire.
What we cooked with the fire were, marshmallows, apples, and sausages. The marshmallows melt well with the fire, and became like soft candies!! The apples became just like apples in apple pies.
Mayumi and Maria playing with the apples and the knife, when trying to make lines on the skin of the apples.
The apple I've done looked like a flower! The skin is burnt, but inside was really tasty**
The pussy willows are really important for Finnish Easter. People collect them and decorate their houses with them together with the Easter eggs.
After having fun at barbecue, we went home and just relaxed for a while, playing cards and watching TV. There was no shower in this house, and had to warm the house with burning woods, but there were digi TV. hahaha!!
At night, we went for a drive. Maria drove, as always. The world was to in dark that we could see the sky with full of stars. Mayumi, from Chiba-the city next to Tokyo, was so surprised when she saw the sky that she had to close the door once, look at us, and tell herself that it was real. There were amasingly many stars in the sky.
Also, the stars were so bright that it was really difficult to find cinfigurations. But we couldn't see the moon.
I found the night time as fascinating as the day time. My eyes could not get used to the darkness. It was impossible to take any photos because there were so few lights. When the world is in darkness, anything was hardly seen. The complete darkness was as divine as the woderful day time with full of sunshine. Now, time moving towards summer, the day time is getting longer and longer everyday. I even feel sad about it - no more darkness for a long time..
スポンサーサイト